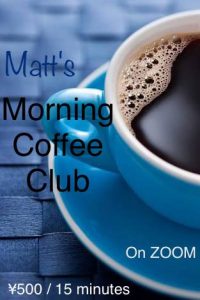 Let's have morning coffee together!
Mondays-Wednesdays-Fridays
Starting 7/6/2020
9:30-9:45 morning English practice.
1-4 students, open talk. Daily English is by far the best way to improve your English skills and become a fluent speaker!
¥500 each session or buy 10 sessions In advance for ¥3500 (¥350 each).
Please register and pay in advance!